Media Center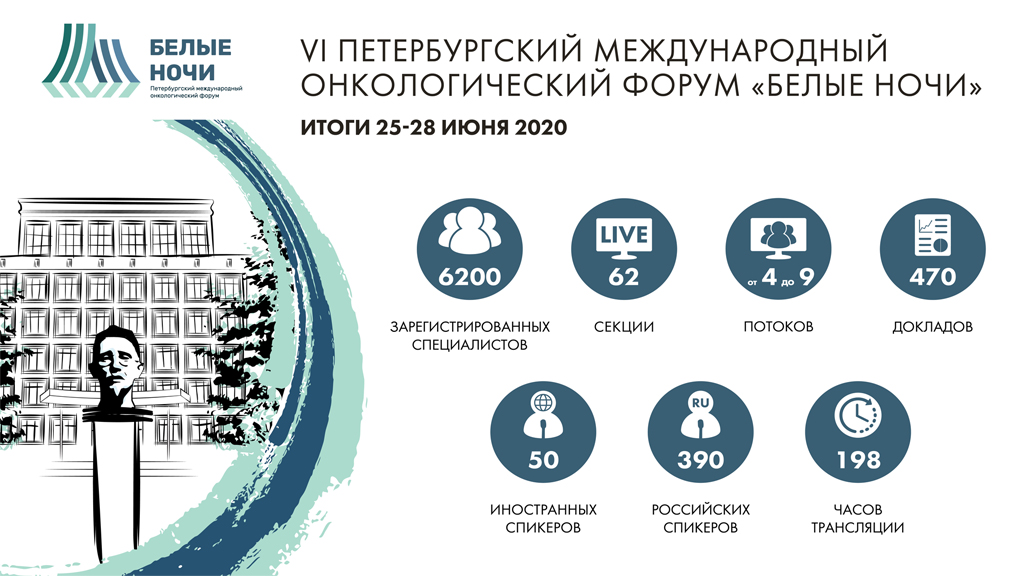 09.10.2020
6th St. Petersburg International Oncology Forum White Nights 2020: Highlights
The 6th St. Petersburg International Oncology Forum White Nights 2020 was held from 25 to 28 June 2020.

For the first time the Forum was an entirely virtual event. The Forum lasted for four days – from 25 to 28 June – and its streaming traffic saw 7,200 visits. The Forum lasted for 198 hours and featured 62 sections. A total of 6,200 participants registered to take part in the Forum.

Due to some changes in the Forum's program, 440 speakers gave 470 presentations, more than was initially planned.

Mr Mikhail A. Murashko, the Minister for Health of Russia, Mr Aleksandr D. Beglov, Governor of Saint Petersburg and Dr Elisabete Weiderpass, Director of the International Agency for Research on Cancer gave their welcome speeches at the Forum.

The Forum brought together many professionals – oncologists, pathologists, chemotherapists, surgeons, radiotherapists, geneticists, scientists, healthcare administrators, delegates from patient organization and charities and many others.

The Forum offered a multidisciplinary program. The range of topics included healthcare management, current issues of cancer care, prevention of cancer, cancer screening, financial challenges of mandatory health insurance, organization of clinical trials and assessment of technologies used in healthcare.

The Forum also covered such highly specialized topics as diagnosis and treatment of various kinds of cancer, rehabilitation of cancer patients and palliative care.

Of special significance were the sessions held by such nonprofit professional organizations as the European School of Oncology, the European Society of Gynaecological Oncology, the Russian Society of Gynaecological Oncology, the Central-Eastern European Breast Cancer Surgical Consortium, the Russian Society of Clinical Oncology, and many others. The International Agency for Research on Cancer also took part in the Forum's sessions.

For the first time in its history the Forum held an on-line session for patients and their families. Leading Russian professionals gave presentations on the methods and techniques for detection and treatment of cancer, rehabilitation and psychological assistance.

We hope that next year we will be able to offer hybrid format and will have the pleasure of meeting together in person and virtually.
We look forward to welcoming you to the 7th St. Petersburg Oncology Forum White Nights 2021.

Organizing Committee of the Forum «White Nights» invites you to take part in the event as a media partner.
@:
prforumonco@gmail.com