Media Center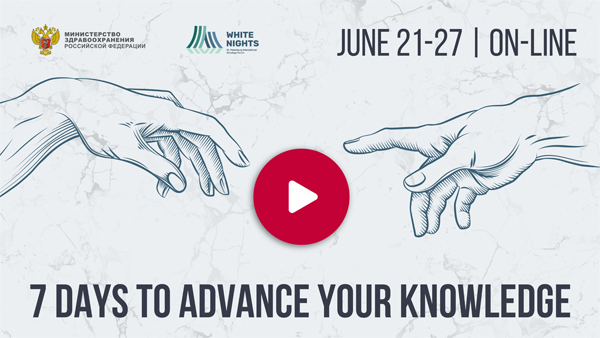 12.02.2021
Seven Days of Knowledge: Ministry of Health included 2021 White Nights Forum in its schedule of science and practice events for 2021
The Ministry of Health of Russia has included the White Nights Forum in its schedule of science and practice events for 2021. In 2020, the Forum was an entirely virtual event the first time. We received hundreds of comments from our participants and we read them all. Many participants said that it was quite challenging to balance work, family and four activity-packed days of the Forum.

---
"It was not easy to spend four days working entirely online, as I often found myself distracted by other work-related matters or, later in the day, by household chores. The Forum was superbly organized, though. I imagine it must have been a gargantuan task. Thank you very much! Hope to see you soon!"
Olga N. Ponkina, Pathologist at Professor Ochapovski University Hospital No. 1 in Krasnodar
---
"A not-to-miss opportunity to take part in an online event. It was an "on-the-job" attendance naturally, hence not as involvement on my side. But I loved it!"
Elena I. Milova, Ultrasonographer at Central Municipal Hospital in Yaroslavl
---
"I would like to thank the organizing committee. Unfortunately, during the working hours I did not have enough time to spend watching the presentations."
Valentina A. Starodumova, Pathologist at Surgut Clinical Perinatal Center in Khanty-Mansi Autonomous Okrug
---
The organizing committee of the Forum appreciates the feedback of our participants, as our goal is to bring together professionals and create a platform for them to share the most advance knowledge in the field of oncology.
This year the Forum's program will be much better planned so that every participant could take part in the sessions they wish and arrange their personal schedule of online attendance, even when at work. Besides, the Forum will be held for seven days and that means an entire week of knowledge sharing with the best practitioners and scientists!
See you online in June! We are pleased to invite you to attend at the 2021 Forum scheduled June 21-27. Add the Forum to your 2021 schedule now.
Organizing Committee of the Forum «White Nights» invites you to take part in the event as a media partner.
@:
prforumonco@gmail.com