Media Center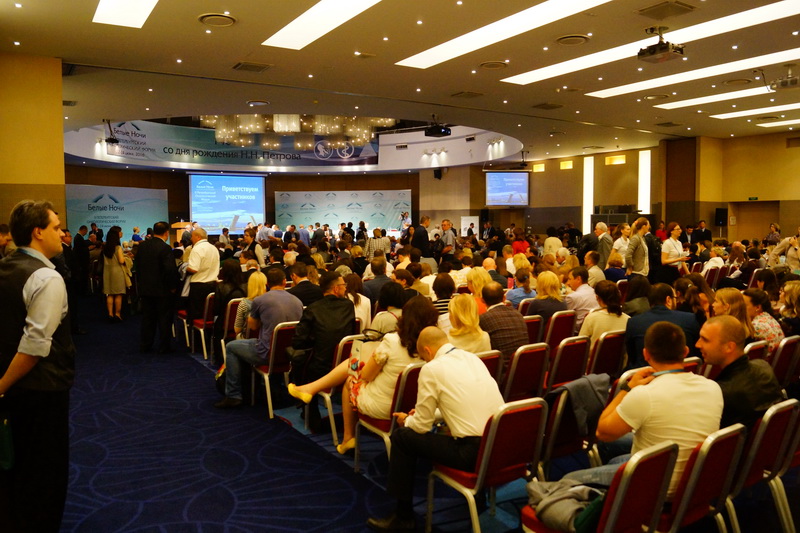 21.08.2017
3th St. Petersburg International Oncology Forum White Nights 2017: Highlights
The 3th St. Petersburg International Oncology Forum White Nights 2017 was held from 23 to 25 June 2017. The Forum which was a large interdisciplinary event brought together best oncology specialists from Russia and all over the world as well as scientists and other health professionals. The Forum mobilized 3,655 attendees from 200 Russian cities and 40 countries.

The inevitability of cancer, which causes millions of deaths every year, has proven to be a painful challenge facing the modern medicine.

Patients all over the world are expecting timely and good-quality medical care, and concrete competent help from physicians.

Professionals are working hard to change the situation for the better, to develop and implement new technology innovations and decrease mortality rates.

The White Nights Forum tackled these exact issues.

When talking about the importance of the Forum for the healthcare system in Russia, Mr Alexei M. Belyaev, Director of the N.N. Petrov National Medical Research Center of Oncology stressed that the Forum was a landmark event not only for the medical community, but for patients as well.

'The Forum is an attempt to showcase what we can do. It will be of great benefit for everybody – for physicians who have come to further their knowledge, and for patients who will be treated by these physicians. It will save lives. In some places cancer is still treated using outdated techniques and therapies – some physicians are just not familiar with capabilities of modern oncology. Oncologists have to be aware of new methods of cancer treatment and when they can be used, and who to refer a patient to if their case proves to be too difficult. That's why the best professionals from Europe, Asia and Americas have been invited to attend the Forum'.

When welcoming the participants at the Opening Ceremony, Mr Sergei A. Kraevoy, Deputy Minister for Health of Russia said that the Forum was a synergy hub that consolidated the efforts of surgeons, chemotherapists and radiotherapists, pointing out that these specialties were now experiencing a new round of development:

'New surgical techniques are being developed; they are minimally invasive and highly effective. Chemotherapy is rapidly developing as well – new target drugs are being developed and personalized treatments based on research are being used. The construction of anti-tumor vaccines has become a separate branch in medicine. A new strategy of developing traditional nuclear medicine is being designed.'

Mr Vasiliy N. Ikonnikov, Member of the Federal Assembly of Russia read the welcoming word of Valentina I. Matvienko, Chairwoman of the Federation Council of the Federal Assembly of the Russia, in which she wished every success and fruitful work to the participants and defined the role of the event in the Russian medicine development context.

'The Forum is a unique platform for discussing the issues of epidemiology, screening and prevention of this dangerous disease and for discussing the latest drugs and therapies. I am sure that the decisions and recommendations made at the Forum will have a huge practical impact on the modern science and the healthcare system in general'.

Mr Mikhail I. Davydov, Chief Oncologist and Director of the N.N. Blokhin Russian Cancer Research Center pointed out that the Forum which sprang out from the Conference on Diagnosis and Treatment of Breast Cancer, became a large science event within just a few years:

'Actually, the Forum has come a long way within a very short period of time. And today it is a large international interdisciplinary event which is going from strength to strength every year. Most importantly, it is comprised of a theoretical part and a practical part and it offers master classes taught by outstanding experts in their field.'

The Opening Ceremony also hosted a series of welcoming words by Ms Yana S. Kabushka, Deputy Chairman of the Public Health Committee of Saint Petersburg; Professor Sung Hoon Noh, Director of Yonsei Cancer Center (Seoul, South Korea); and Professor Franco Cavalli, President of the Scientific Committee of the European School of Oncology (Bellinzona, Switzerland).

The science program of the Forum covered a wide range of topics – the three days of the Forum featured more than 55 topic areas on adult and childhood cancers. More than 90 European, Asian and American experts participated in the Forum.

A total of 740 presentations were made at the Forum which was attended by 3,655 participants.

The Forum successfully used various formats of professional events – the participants could take part in traditional breakout meetings, seminars, master classes, as well as interactive satellite events and live streams from operating rooms.

Healthcare professionals will continue to discuss relevant issues in oncology, develop new techniques and tools to treat patients and innovate the procedures of cancer care, but it is such events as the Forum that enable physicians to implement new scientific developments into their every-day clinical practice quicker and, thus, save millions of lives.



Organizing Committee of the Forum «White Nights» invites you to take part in the event as a media partner.
@:
prforumonco@gmail.com